Select Your Guide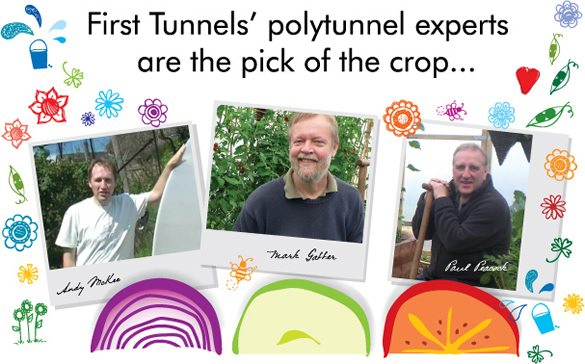 Andy McKee, and Mark Gatter - best-selling authors of 'How to grow food in your Polytunnel' and 'The Polytunnel Handbook'. Plus...Paul Peacock, presenter, from BBC's Gardeners' Question Time. Plus...Sam Youd, Presenter & Judge for the Royal Horticultural Society & Tatton Park Head Gardener.
Part of the fun of owning a polytunnel is picking the brains of people who really know how to make the most of the real growing potential. So we're making it easy for you...with some of the best brains in the business!
Check out their hints, tips, ideas, do's and don'ts and general expert know-how on making the most of every inch of your polytunnel...every day of the year!
Andy, Mark, Paul and Sam are also actively involved with our Facebook pages on a daily basis. Either posting pictures, sharing hints and tips, or answering other gardeners questions. If you have a question, or want to share some of your polytunnel gardening experiences, join our group on Facebook where you'll find hundreds of other like minded people making the most of their polytunnels