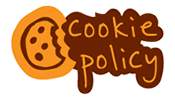 The law requires that we ask your permission to introduce cookies to your browser in order that you can get the best out of our website. We'd like to claim that these are tasty morsels flavoured - unusually - with home grown veg rather than the more traditional chocolate chips and nuts. But they're not! Yummy though they might sound, these cookies are not for noshing on...they are simply small text files, stored in your browser and used by the websites you visit to give you a better service. If you want to know more about the technical, electronic cookies, scroll towards the bottom of this page.
Those of you who prefer tasty morsel type cookies, stay right there. Below is one of our favourites, made using polytunnel-grown Pumpkins!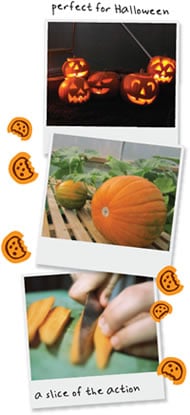 First things first...have you grown a pumpkin in your polytunnel this year? If not, why not? They're really easy, see for yourself with our blog
Ok it's late September, early October, time to remove your pumpkin from it's nesting spot inside the polytunnel. If you don't have your own pumpkin, you can buy one from your local greengrocer or supermarket.
Pumpkin Cookie Recipe
These cookies are always a great treat, just the thing to reward your little helpers. We think that they're best eaten after an afternoon of polytunnel gardening. Make a brew, find your favourite chair, put your feet up and enjoy the fruits of your labour...
Ingredients
600gm plain flour
4 teaspoon baking powder
1/4 teaspoon baking soda
1/2 teaspoon ground ginger
1/2 teaspoon allspice
1/4 teaspoon. ground cloves
4 teaspoon cinnamon (divided)
1 teaspoon salt
170gm butter, softened
450gm unrefined sugar (plus 4 tablespoons for topping)
2 eggs
450gm pumpkin flesh
100gm pecans, finely chopped (optional)
250gm raisins (optional)
Method
Preheat oven to 200oC. Cut your pumpkin into sections - like you would a water melon - the smaller pieces are easier to work with and take less time to cook. Remove all the seeds. Slice or chop the pumpkin sections evenly. Lay the slices/chunks on a non-stick or lightly oiled roasting tin, pour over a little olive or vegetable oil or dot with butter. Depending on the size of your slices/chuncks they will be ready from 30 minutes to an hour - test the flesh for softness. Allow to cool. Once cooled remove skin.
Leave the oven on. Lightly grease a baking tray (or use parchment).
Mix the flour, baking powder, baking soda, ginger, allspice, cloves, salt, and just 1 teaspoon of the cinnamon. Then set aside.
Cream the butter (work it into a smooth paste) and then slowly add the unrefined sugar until blended. Continue beating while adding the eggs and pumpkin flesh.
Add the dry spice mixture to the mix and beat until blended.
Stir in pecans and raisins by hand or on a very low setting.
Make the cookies on the cookie sheet using spoons - leaving about 5cm/2 inches between each scone. Flatten the scone with the back of the spoon.
Combine 3 tablespoons of cinnamon with 4 tablespoons of unrefined sugar. Sprinkle this mix on top of the cookies.
Bake 8 - 12 minutes or until golden brown. Cool for 5 minutes before removing to a cooling rack.
Treat yourself to the first taste. Take a picture and tell us about your favourite cookies on our facebook page.
Tips
Make an extra batch, once thoroughly cooled, pop them in the freezer. Cookies quickly thaw and youll have a delicious home-made treat on hand in minutes. Or you could just hide the extra batch in a drawer, for your eyes only...
---
The other type of Cookies...
Cookies are text files containing small amounts of information which are downloaded to your device when you visit a website. Cookies do lots of different jobs, like letting you navigate between pages efficiently, remembering your preferences, and generally improve the user experience. They can also help to ensure that adverts you see online are more relevant to you and your interests.
How We Use Cookies...
At First Tunnels we use cookies on our website to help us provide you with a better website.
We use cookies that are:
Essential cookies to enable you to move around the website and use its features.
Performance cookies to provide you with a better user experience.
Functionality cookies that allow the website to remember choices you make.
The cookies we use in no way gives us access to your computer or any information about you, other than the data you choose to share with us.
Cookies Used On Our Website
| Cookie Name | 1st or 3rd Party | Purpose |
| --- | --- | --- |
| ASPSESSIONIDQCARDCQC | 1st | Session ID - This is a session cookie and is set when you visit our website. It does not save any of your personal information and it expires as soon as your browser is closed. |
| __utma, __utmb, __utmc, __utmz | 1st | Google Analytics - We use these cookies to identify which pages are being used. This helps us analyse data about webpage traffic and improve our website in order to tailor it to customer needs. We only use this information for statistical analysis purposes and then the data is removed from the system. |
| BX, localization | 3rd | Flickr - Flickr set this cookie when Flickr content is embedded and viewed within the website. For details as to how the information stored in their cookies is used, please visit http://info.yahoo.com/privacy/uk/yahoo/#4. |
| sessionid, br, _data | 3rd | Shopzilla - We use Shopzilla to allow our customers to provide us with feedback about their purchase. For details as to how the information stored in their cookies is used, please visit http://www.shopzillasolutions.co.uk/privacy-policy. |
| id, test_cookie | 3rd | DoubleClick.net - These cookies provide advert tracking services by doubleclick.net. For details as to how the information stored in their cookies is used, please visit http://www.google.com/policies/privacy/ads/. |
| VISITOR_INFO1_LIVE, use_hitbox, PREF | 3rd | You Tube - We have embedded you tube videos in our website. For details as to how You Tube use the information stored in their cookies, please visit http://www.google.co.uk/intl/en/policies/privacy/ |
| PREF, testcookie, khcookie, NID | 3rd | Google Maps - We have embedded Google maps in our website. For details as to how Google use the information stored in their cookies, please visit http://www.google.co.uk/intl/en/policies/privacy/ |
---
Managing Cookies
If you do not wish for cookies to be written or would like to delete any cookies that have been set on your machine, this can be done through your browser settings. If you are unsure of how to do this, www.aboutcookies.org contains information that will help you.