8ft Wide Polytunnel
Quite small and yet perfectly formed, our 8ft wide polytunnels are a popular choice for domestic use, for gardens, allotments and other little community spaces. No matter how much growing space you have you always want more but an 8ft wide polytunnel is easily big enough to allow you to grow food all year round. Just choose the length of tunnel you require - we recommend going for a tunnel that is as long as you can fit in your space - there is always something more you will want to cram in! Then just click on any extras you may wish to buy. Not sure what's included? Click on 'What's In The Kit' to find out what you need to know.
Polytunnel extras will not only allow you to make the most of your space, maximise yield and make your life easier, they can also allow you to get some great savings with our bonus save scheme. Buy extras such as base rails, crop bars, sliding doors or staging and you can save up to 20% on your purchase. 8ft wide polytunnels are great value for money, allowing you to cut costs on feeding your family. With these bonus savings, they are even better for your household finances.
Intro
Hover To Zoom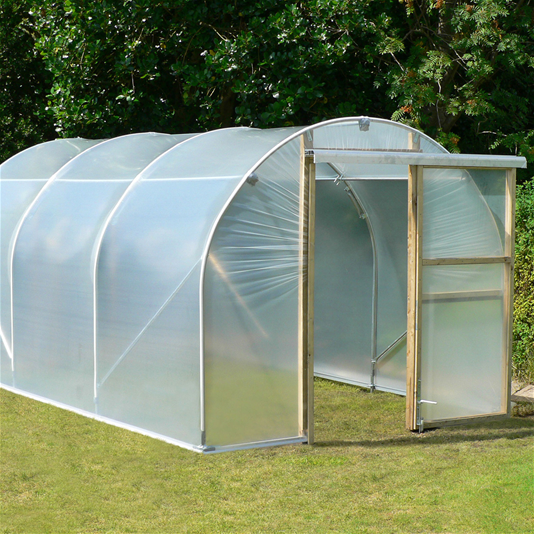 Tech Specs
One of the most popular sizes in the entire range, the 8ft model with 3ft 3in (0.99m) high straight sides provides the growing space and air circulation that is essential for a wide range of plants, particularly those that are tall or are usually grown on staging.
Technical Specification
| | |
| --- | --- |
| Width | 8ft (2.44m) |
| Hoop Spacing | 5ft (1.53m) |
| Overall Height | 6ft 8in (2.03m) |
| Straight Side | 3ft 3in (0.99m) |
| Head Room (15cm from side) | 4ft 5in (1.34m) |
| Hoop Diameter | 1in (25.4mm) |
| Steel Specification | E370 Galv High Tensile |
| Door Opening Width | 2ft 3in (0.69m) |
| Door Opening Height | 6ft (1.83m) |
| Distance over Hoop | 18ft (5.48m) |
| Door Frame | 3in x 2in (75mm x 47mm) |
| Inner Door | 2in x 2in (50mm x 50mm) |
| Base Rail | 3in x 2in (75mm x 47mm) |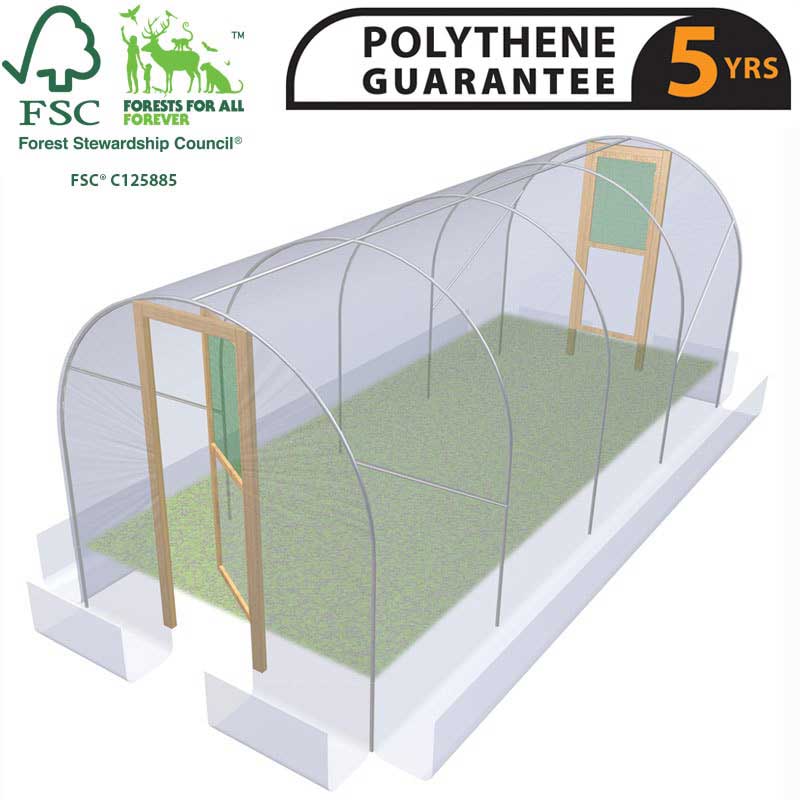 Instructions
We have two construction guides for our 8ft Wide Polytunnel Model.
8TR for polytunnels who require the cover to be buried in a trench. 8BR for polytunnels that have Base Rails eliminating the requirement for digging a trench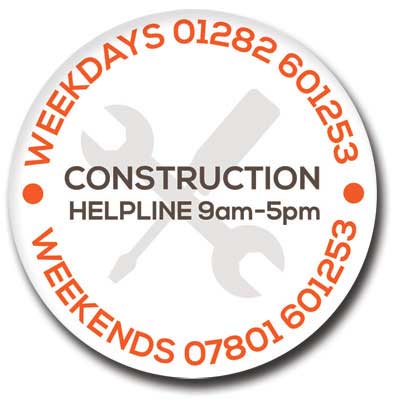 If you are experiencing problems with your polytunnel construction, our construction team are available to answer your questions and help in whatever way they can. Simply call 01282 601253 on week days between 9am-5pm...PLUS weekend cover on 07801 601253, between 9am-5pm or contact us. Alternatively, you can visit our construction resources website at polytunnels.co.uk.
We haven't stopped there, we know many people build their polytunnels at the weekend or over a bank holiday when our office is closed, so we have also produced a series of Polytunnel Construction Videos. This collection of videos can be viewed anytime, on your home computer, and even your phone for when you are in the thick of things constructing your polytunnel.
| | |
| --- | --- |
| Dennis Morton | Big enough for the space that I had |
| | |
| --- | --- |
| Dr | excellent value for money. would not hesitate to recommend the company . the team of staff are helpful and only to willing to help you keep up the good work and would buy another if I had the space |
| | |
| --- | --- |
| Christopher Roberts | The product will only be evaluated properly when it is successful during one growing season. However most pleased with delivery,parts&build instructions.Must admit 2 men build in one day, was this one man(75 years old) target I missed spectacularly!! Completed the base poles insertion in one day,the rest was more time to complete than I would admit to in a court of law. |
| | |
| --- | --- |
| keith robertson | only one small niggle - would be the gaps around the two doors (back and front), going to cause difficulties in the cold weather................but otherwise great. |
| | |
| --- | --- |
| Jamie Cooper | Easy to install does what it says on the tin |
| | |
| --- | --- |
| Rachel | Very difficult to install. |
| | |
| --- | --- |
| PJ May | Most people only build one poly tunnel for themselves in their life time. First tunnels supply the support info, manual, videos and telephone back -up that is only just second best to them actually build the bloomin' thing for you! Everything arrives logged and itemised and all you need, apart from the tools, is there down to the last nut and washer. Following the instructions step by step could be done by a simple robot. The only problems occur when you think you might have a better way of doing things! It's like the old joke about the most dangerous nut in a car is the one behind the steering wheel. |
| | |
| --- | --- |
| michael kelly | This is my second from first tunnels and it's even better - it's the service that counts. |
| | |
| --- | --- |
| Stephen Brookman | Excellent quality. Robust materials. Easy assembly. Comprehensive instructions. Very good buy. |
| | |
| --- | --- |
| ANNE JACKSON-WILD | Review of tunnel under previous heading very satisfied |
| | |
| --- | --- |
| vicky trotter | Fab . Good quality. Gone for super therm poly sheet as I think it's worth spending that bit more on it |
| | |
| --- | --- |
| Anne-Marie MacGregor | Almost finished putting this up so haven't had a chance to try it out. Seems smaller than I imagined, but sure it will be fine. Could possibly have done with more P-clips - we ordered an extra 12, but then we possibly have more gales here in Orkney than on the mainland. |
| | |
| --- | --- |
| Mr Gibson | A good quality Product which was erected by me over 4 days |
| | |
| --- | --- |
| Wendy Hammond | Brilliant so easy to put together |
| | |
| --- | --- |
| Dave Hamilton | Still early days yet but the polytunnel is excellent and feels very sturdy. |
| | |
| --- | --- |
| Frances McNeill | Great polytunnel only down side is it took 3wks for it to be completely delivered so had to wait to erect it other than that a fantastic buy |
What's In The Kit
We supply Timber Hinged Doors at each end, Anti Hot Spot Tape, Timber Base Rails and of course the Framework to support our 200 micron Super Therm Polythene cover.
You will be required to secure the foundations into concrete, alternative methods of securing the polytunnel can be selected, eliminating the requirement of concrete – see 'Polytunnel Foundation' section.