10ft Wide Polytunnel
A 10ft wide polytunnel is a popular choice for home gardeners and allotment holders. They can fit within many gardens and other growing spaces while still offering a good amount of space for growing food. Whether you are an experienced gardener or are just getting started on your journey to a more sustainable way of life, a 10ft wide polytunnel could meet your needs perfectly. You just need to decide how long a tunnel you need for your particular plans. Click on 'What's In The Kit' for details of what is included when you buy your 10ft wide polytunnel, then browse the virtual accessories and extras aisle to see what else you might like to include in your purchase.
Crop bars, staging, sliding doors - all these help to make the most of your gardening space. Base rails could also be a good option if you are siting your tunnel somewhere other than on grass or soil. Before making your decisions, check out the great savings you could be making with our bonus save deal - if you are just missing out on a discount, see what else you might be missing to further reduce your costs on your 10ft wide polytunnel.
Intro
Hover To Zoom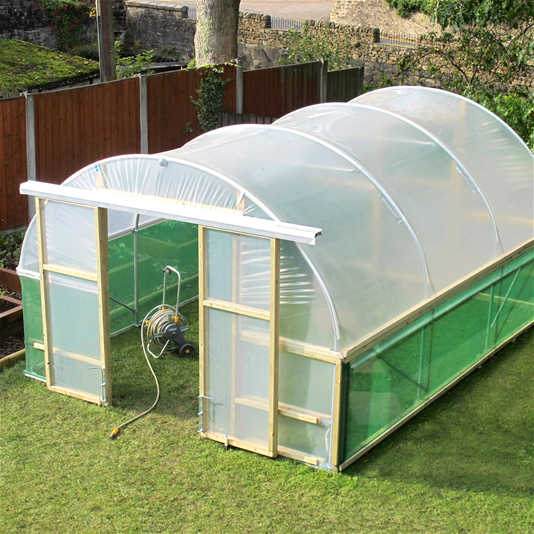 Tech Specs
This is the most popular Domestic sized Polytunnel. Ideal for those gardeners who enjoy tending a plot and want ample space to get seriously productive too. The footprint gives lots of room for manoeuvre and the 3ft 2in (0.96m) high straight sides that help with the all important air circulation, allowing you to grow tall plants and reducing the chance of disease.
Technical Specification
| | |
| --- | --- |
| Width | 10ft (3.05m) |
| Hoop Spacing | 5ft (1.53m) |
| Overall Height | 7ft (2.13m) |
| Straight Side | 3ft 2in (0.96m) |
| Head Room (15cm from side) | 4ft 8in (1.42m) |
| Hoop Diameter | 1in (25.4mm) (1¼in (35mm) on Super) |
| Steel Specification | E370 Galv High Tensile |
| Door Opening Width | 2ft 3in (0.69m) |
| Door Opening Height | 6ft (1.83m) |
| Distance over Hoop | 20ft (6.09m) |
| Door Frame | 3in x 2in (75mm x 47mm) |
| Inner Door | 2in x 2in (50mm x 50mm) |
| Base Rail | 3in x 2in (75mm x 47mm) |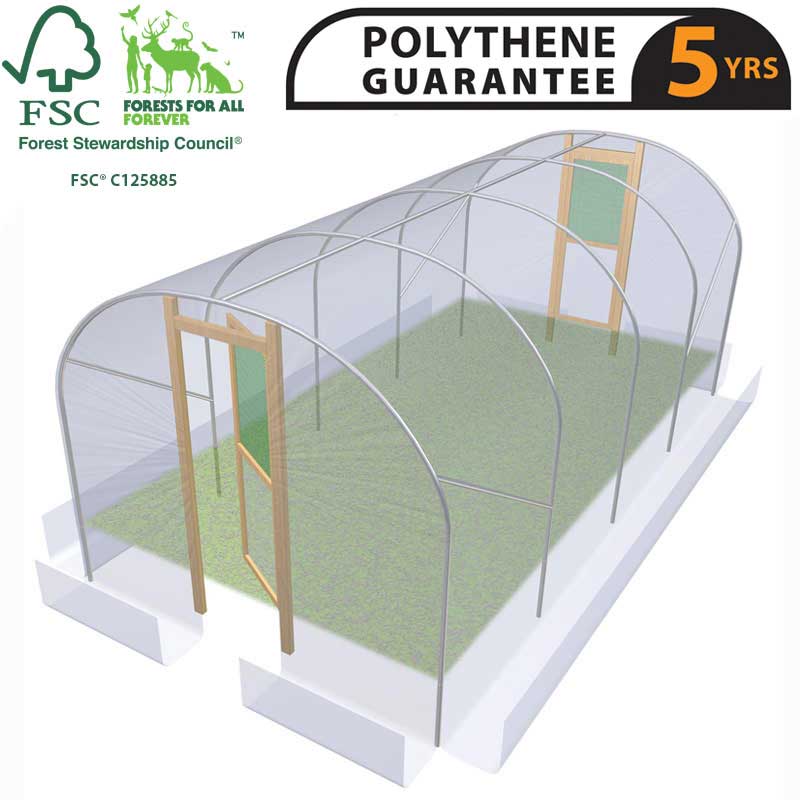 Instructions
We have four construction guides for our 10ft Wide Polytunnel Model.
10TR/10STR for polytunnels who require the cover to be buried in a trench. 10BR/10SBR for polytunnels that have Base Rails eliminating the requirement for digging a trench. The 'S' denotes whether the Polytunnel has been upgraded to 35mm Hoops.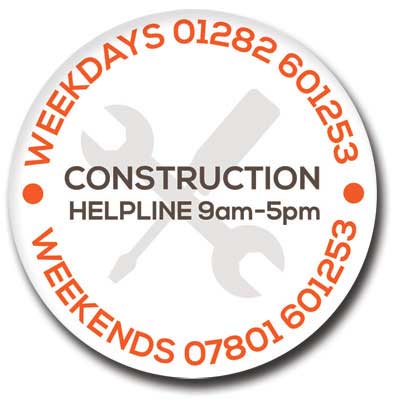 If you are experiencing problems with your polytunnel construction, our construction team are available to answer your questions and help in whatever way they can. Simply call 01282 601253 on week days between 9am-5pm...PLUS weekend cover on 07801 601253, between 9am-5pm or contact us. Alternatively, you can visit our construction resources website at polytunnels.co.uk.
We haven't stopped there, we know many people build their polytunnels at the weekend or over a bank holiday when our office is closed, so we have also produced a series of Polytunnel Construction Videos. This collection of videos can be viewed anytime, on your home computer, and even your phone for when you are in the thick of things constructing your polytunnel.
Information!
No reviews available.
What's In The Kit
We supply Timber Hinged Doors at each end, Anti Hot Spot Tape, Timber Base Rails and of course the Framework to support our 200 micron Super Therm Polythene cover.
You will be required to secure the foundations into concrete, alternative methods of securing the polytunnel can be selected, eliminating the requirement of concrete – see 'Polytunnel Foundation' section.