24ft Wide Polytunnels
Whether you are new to commercial growing and setting up your first, exciting new venture, or are a seasoned professional with years of experience under your belt, we can provide what you need. If our 24ft wide polytunnels are just the right size for your space then you are in the right location. Here, you can choose all the details of your tunnel, select the length required and make sure that you have everything that you need. You can find out exactly what is included in your purchase by clicking on 'What's In The Kit' and then go on to add any extras or accessories you require.
You will be astounded to discover how much you can save on your purchase. With our great bonus save deal the more you add on extras such as base rails, crop bars, sliding doors and staging options, the more you can save! There is no need for us to do the hard sell - as a commercial grower you know the importance of getting your growing area just right the first time. Buy your perfect polytunnel today and with no fuss or hassle, you will expand your growing venture in no time and bloom into the business you have always wanted to be.
Intro
Hover To Zoom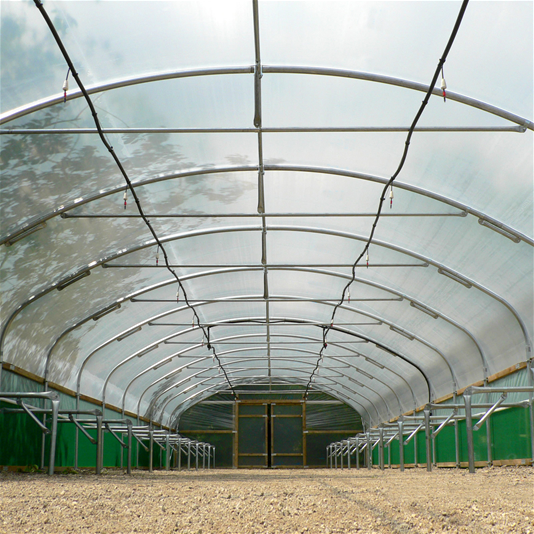 Tech Specs
The 24ft (7.32m) wide Polytunnel is another really versatile model, with sufficient width to make it suitable for cultivating almost any crop. The excellent side clearance and generous 9ft 10in (2.9m) height make it a popular choice with small to medium size nurseries. Access is also easy, thanks to the generous 7ft 6in (2.29m) opening at either end. And if you're concerned about snowload or wind resistance Crop Bars can be added. They are also ideal for suspending hanging baskets.
Technical Specification
| | |
| --- | --- |
| Width | 24ft (7.32m) |
| Hoop Spacing | 6ft (1.83m) |
| Overall Height | 9ft 10in (2.99m) |
| Straight Side | 4ft 6in (1.37m) |
| Head Room (15cm from side) | 5ft 10in (1.77m) |
| Hoop Diameter | 2in (50.8mm) |
| Steel Specification | E370 Galv High Tensile |
| Door Opening Width | 7ft 6in (2.29m) |
| Door Opening Height | 7ft (2.13m) |
| Distance over Hoop | 36ft 5in (11.13m) |
| Door Frame | 4in x 2in (100mm x 47mm) |
| Inner Door | 3in x 2in (75mm x 47mm) |
| Base Rail | 3in x 2in (75mm x 47mm) |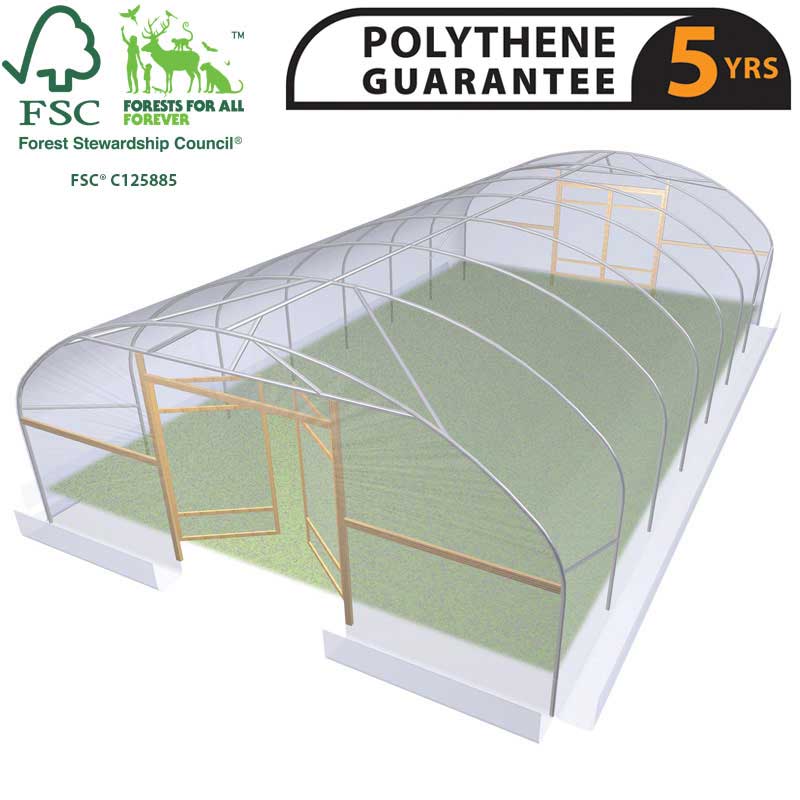 Instructions
We have two construction guides for our 24ft Wide Polytunnel Model.
24TR for polytunnels who require the cover to be buried in a trench. 24BR for polytunnels that have Base Rails eliminating the requirement for digging a trench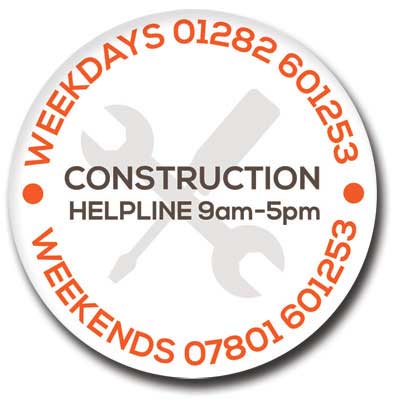 If you are experiencing problems with your polytunnel construction, our construction team are available to answer your questions and help in whatever way they can. Simply call 01282 601253 on week days between 9am-5pm...PLUS weekend cover on 07801 601253, between 9am-5pm or contact us. Alternatively, you can visit our construction resources website at polytunnels.co.uk.
We haven't stopped there, we know many people build their polytunnels at the weekend or over a bank holiday when our office is closed, so we have also produced a series of Polytunnel Construction Videos. This collection of videos can be viewed anytime, on your home computer, and even your phone for when you are in the thick of things constructing your polytunnel.
| | |
| --- | --- |
| Craig Snoulton | Excellent. |
| | |
| --- | --- |
| Hakan | Havent built yet but product parts are very sturdy |
| | |
| --- | --- |
| Keith | excellent service |
| | |
| --- | --- |
| Lesley Noah's Place | We have not put the poly tunnel up as yet but the service we received was first class |
| | |
| --- | --- |
| Sharon Curry | The polytunnel seems to be of good quality so far, also seems a reasonable price for the product we received. |
| | |
| --- | --- |
| Christopher Crow | Top quality tunnel with all the belts and braces. |
| | |
| --- | --- |
| Julie Lowe | This is the size we use and it has plenty of room for all year round growing. |
| | |
| --- | --- |
| Karen Burdett/Adrian Moss aka Shrub Shack | What can I say, it is perfect for my requirements. The website enabled me to consider lots of different options so that I could specify to my exact requirements and budget. |
| | |
| --- | --- |
| Bob Paton | The First Tunnel polytunnels are first class, expertly made and provide you with perfect growing conditions. They never move in the wind - and we live in a very windy area |
What's In The Kit
We supply Timber Hinged Doors at each end, Anti Hot Spot Tape, Timber Base Rails and of course the Framework to support our 200 micron Super Therm Polythene cover. These options are pre-selected below, but can be amended to suit your needs.
You will be required to secure the foundations into concrete, alternative methods of securing the polytunnel can be selected, eliminating the requirement of concrete – see 'Polytunnel Foundation' section.