22ft Wide
Welcome to our 22ft (6.7m) Wide Polytunnel configuration page. Simply select the length and you're good to go. You have a Complete Polytunnel ready for assembly onto a grass/soil base. Click What's In The Kit for details. We even provide a Growing Pack to help you start growing straight away.
A full range of options, are also available and are highly recommended to enable you to customise and enhance your polytunnel, click 'Help Me Choose' for further information on each of our options.
The more you spend, the more of a discount we can offer, our Online Reward Calculator will automatically discount your basket as you customise your polytunnel - up to 20%, giving you the opportunity to purchase the really useful items like Base Rails, Sliding Doors, Crop Bars or Staging that will give you a BIGGER SAVING. Not only that but further additions to the basket will also incur the same level of discount.
Intro
Hover To Zoom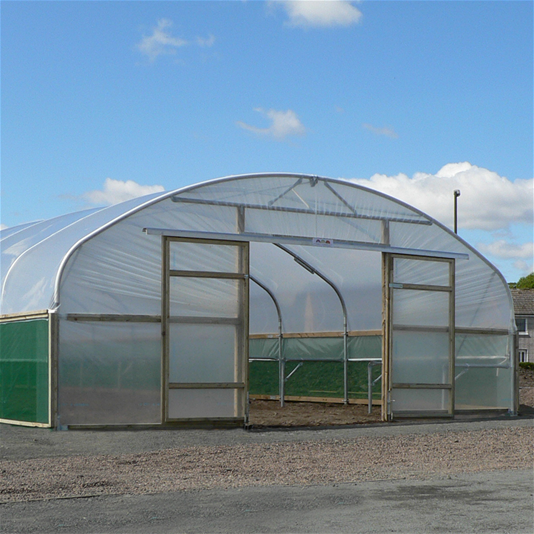 Tech Specs
As Polytunnels get wider, the possible uses grow with them. This 22ft (6.7m) wide model is a perfect example. For the first 4ft 6in (1.37m) up from ground level, the hoops are completely vertical, giving you more choice and workable options for a variety of path layouts, and the space to introduce raised beds. There's also the best possible clearance fo staging with the added bonus of excellent ventilation. Needless to say, like all our Polytunnels, it's a really durable structure too.
Technical Specification
| | |
| --- | --- |
| Width | 22ft (7.32m) |
| Hoop Spacing | 6ft (1.83m) |
| Overall Height | 9ft 7in (2.92m) |
| Straight Side | 4ft 6in (1.37m) |
| Head Room (15cm from side) | 5ft 10in (1.77m) |
| Hoop Diameter | 2in (50.8mm) |
| Steel Specification | Z35 Galv High Tensile |
| Door Opening Width | 7ft 6in (2.29m) |
| Door Opening Height | 7ft (2.13m) |
| Distance over Hoop | 34ft 5in (10.53m) |
| Door Frame | 4in x 2in (100mm x 47mm) |
| Inner Door | 3in x 2in (75mm x 47mm) |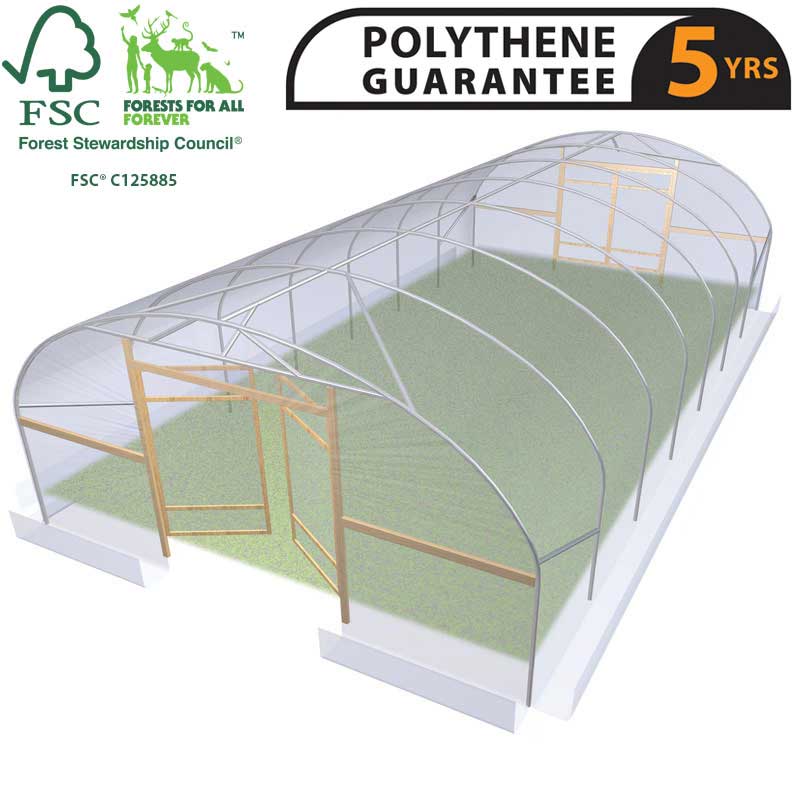 Instructions
We have two construction guides for our 22ft Wide Polytunnel Model.
22TR for polytunnels who require the cover to be buried in a trench. 22BR for polytunnels that have Base Rails eliminating the requirement for digging a trench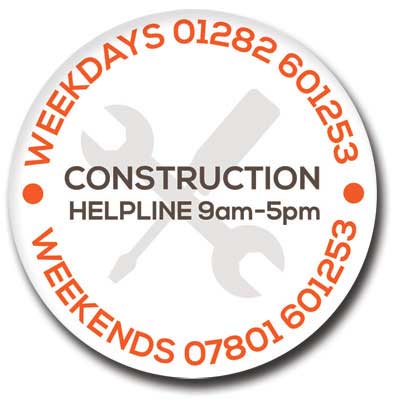 If you are experiencing problems with your polytunnel construction, our construction team are available to answer your questions and help in whatever way they can. Simply call 01282 601253 on week days between 9am-5pm...PLUS weekend cover on 07801 601253, between 9am-5pm or contact us. Alternatively, you can visit our construction resources website at polytunnels.co.uk.
We haven't stopped there, we know many people build their polytunnels at the weekend or over a bank holiday when our office is closed, so we have also produced a series of Polytunnel Construction Videos. This collection of videos can be viewed anytime, on your home computer, and even your phone for when you are in the thick of things constructing your polytunnel.
| | |
| --- | --- |
| Paul Walsh | The product is sturdily constructed and fits ur requirements |
| | |
| --- | --- |
| Michael Reed | Can you imagine a small football pitch to play with? Well I have that size of area at my disposal. Will I fill it, doubtful, but its now used for drying clothes, storing bikes, wood for my stove and of course my second hand couch and obligatory stove for my kettle - secret hideaway or working hard - my wife cant decide which. Granted I'm lucky to have the space, but Id be equally as happy with a smaller poly tunnel, obviously would have to lose the couch though. Thnaks First Tunnel, |
| | |
| --- | --- |
| Jacqueline Coupe | Great quality product, very sturdy. |
| | |
| --- | --- |
| Bob Paton | The First Tunnel polytunnels are first class, expertly made and provide you with perfect growing conditions. They never move in the wind - and we live in a very windy area |
| | |
| --- | --- |
| Susan Atkins | Amazing quality, super strong, who needs to worry about wind and rain when you have a Polytunnel. |
| | |
| --- | --- |
| John Harrison | The support hoops are 51.5mm diameter, galvanised inside and out. The crop bars and various strengthening components are similar quality. Door framing, hinges and staples etc all top quality. Nothing was skimped on, no corners cut. Quality covering as well, of course. |
| | |
| --- | --- |
| Sam Jones | Very very robust and high quality. Well worth the money, cant wait to enjoy the next growing season. Thanks again. |
| | |
| --- | --- |
| Paul Bishop | Well made and good instructions Arrived on time |
| | |
| --- | --- |
| Ashley Parker | Very satisfied with both tunnels - high quality structures, excellent install service. Highly recommend the construction service that first tunnels offer. |
What's In The Kit
We supply Timber Hinged Doors at each end, Anti Hot Spot Tape, and of course the Framework to support our 200 micron Smart Clear Polythene cover.
A trench will need to be dug around the perimeter of the Polytunnel to secure the structure in place. Don't under estimate how long & tiring, digging this trench can be - Eliminate the requirement of this trench by ordering Base Rails. This alternative 'Ground Fixing' method and other useful additions such as Sliding Doors, Ventilation, etc, can be added, please see our Optional Extras.
Foundation Tubes
Hoops
Central Ridge
Door Rails x 2 & Stabiliser Bars x6
Corner Stabiliser Bars x 4
Roof Stabiliser Bars x 4
Double Hinged Doors & Frames x 2
Timber Outrigger Strengtheners
Anti Hot Spot Tape
Smart Clear (200 Micron Polythene)