16ft Wide Polytunnels
If a 16ft polytunnel is just the right size, not too big and not too small, then you have come to the right place. Simply select the 16ft option and you will be able to choose to purchase a polytunnel kit containing everything you need to make a tunnel of just that size. You can click 'What's in the kit' to find out more about exactly what is included with your 16ft polytunnel and should you require anything else, we have just what you need in our wide range of add-ons and accessories.
Crop bars, base rails, sliding doors and staging can all make it easier to get a bumper yield from your 16ft polytunnel, whether it is for a large domestic set up or commercial use. Don't forget, adding on those extras could not only make your life a lot easier, it can also save you money with our great bonus savings scheme. You can tot up savings of up to 20%! A fairly large polytunnel such as this one is the perfect step up into commercial production and is the smallest commercial size polytunnel we provide. It could be the perfect, cost-effective way to boost your smallholding or other small business venture.
Intro
Hover To Zoom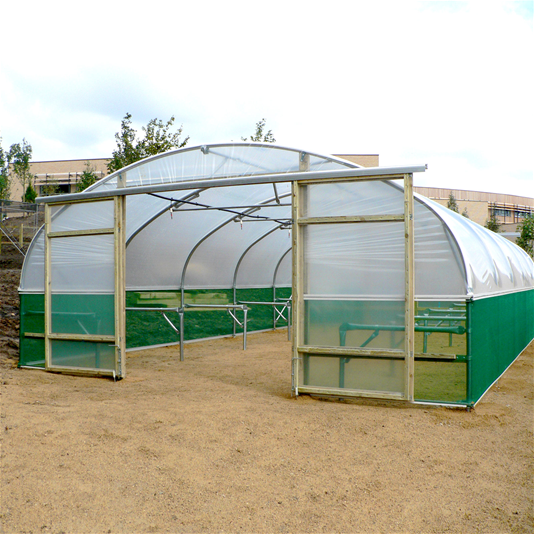 Tech Specs
Although the smallest in our range of Commercial structures, the 16ft (4.88m) wide Polytunnel is ideal for many of the demands placed on it by professional growers. The shape lends itself to exceptionally good clearance for working, with ample height for cultivating tall plants and for hanging baskets. It's super strong thanks to 50.8mm diameter E370 high tensile pre-galvanised steel tubing. Every component of this Polytunnel has been developed specifically for this structure, no adapting, no fuss.
Technical Specification
| | |
| --- | --- |
| Width | 16ft (4.88m) |
| Hoop Spacing | 6ft (1.83m) |
| Overall Height | 8ft 4in (2.54m) |
| Straight Side | 3ft 3in (0.99m) |
| Head Room (15cm from side) | 5ft (1.52m) |
| Hoop Diameter | 2in (50.8mm) |
| Steel Specification | E370 Galv High Tensile |
| Door Opening Width | 7ft 6in (2.29m) |
| Door Opening Height | 7ft (2.13m) |
| Distance over Hoop | 26ft 7in (8.15m) |
| Door Frame | 4in x 2in (100mm x 47mm) |
| Inner Door | 3in x 2in (75mm x 47mm) |
| Base Rail | 3in x 2in (75mm x 47mm) |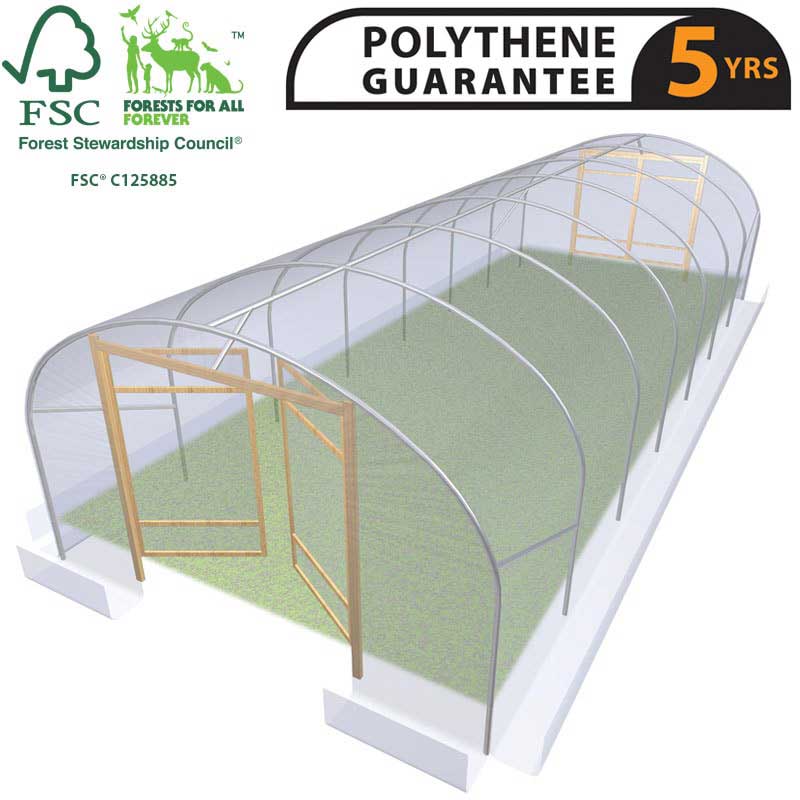 Instructions
We have two construction guides for our 16ft Wide Polytunnel Model.
16TR for polytunnels who require the cover to be buried in a trench. 16BR for polytunnels that have Base Rails eliminating the requirement for digging a trench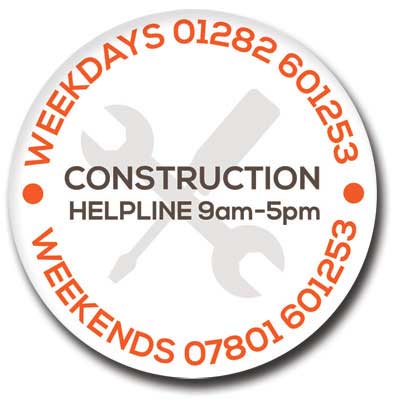 If you are experiencing problems with your polytunnel construction, our construction team are available to answer your questions and help in whatever way they can. Simply call 01282 601253 on week days between 9am-5pm...PLUS weekend cover on 07801 601253, between 9am-5pm or contact us. Alternatively, you can visit our construction resources website at polytunnels.co.uk.
We haven't stopped there, we know many people build their polytunnels at the weekend or over a bank holiday when our office is closed, so we have also produced a series of Polytunnel Construction Videos. This collection of videos can be viewed anytime, on your home computer, and even your phone for when you are in the thick of things constructing your polytunnel.
| | |
| --- | --- |
| ADRIAN POILE | Haven't received it yet but the last one I bought from you was very good quality and easy to erect. |
| | |
| --- | --- |
| Trevor | Solid robustly built , this is our second tunnel Very pleased |
| | |
| --- | --- |
| Todd S | Fantastic, strong polytunnel. |
| | |
| --- | --- |
| Diogo Corte-Real | amazing polytunnel and top service! |
| | |
| --- | --- |
| Helen Robins | Excellent quality, great instructions, videos are extremely valuable. Here's to us growing loads! |
| | |
| --- | --- |
| C Brook | Amazing product, very happy |
| | |
| --- | --- |
| Graham Togwell | Excellent product, very clear instructions, good quality materials. Only slight niggle is that the cover could have been another meter wider and longer, enough sent but just on the tight side to install the way I like to do these. |
| | |
| --- | --- |
| Sian Davis | Excellent quality polytunnel with clear instructions for assembly. |
| | |
| --- | --- |
| Ian Morton | Really good quality tunnel, really strong and we're sure will survive any storms West Wales has to offer. |
| | |
| --- | --- |
| Mrs D Harper | Very pleased with this product easy to assemble already reccomended to someone |
| | |
| --- | --- |
| Martin Veldhoen | Very good quality and servi8 |
| | |
| --- | --- |
| Stirling Council Creditors Team | I would love to rate First Tunnels more than five. Although I have not yet finished constructing mine the communication with the staff from initial order to delivery and opening the packaging is brilliant. They could not be more helpful, the delivery was on time when I wanted it the packaging was fantastic everything you need. Quality is excellent I could not believe the high standard. I am only half way through construction but confident all will go well and I know I can phone anytime if I have any problems. |
| | |
| --- | --- |
| Simon Armstrong | Easy to erect if you have more than one person, I did most of the work alone and just had help to place the cover. If you have the room prep all the parts first. There is lots of nails in the kit, but I would have liked to maybe seen some screws in place of the 6inch nails as I had to replace one door rail as it split when hammering the nail through a knot. |
| | |
| --- | --- |
| Charlotte Lobb | Really clear instructions and easy to construct. |
| | |
| --- | --- |
| D_Edwards | Very helpful people. Haven't got the tunnel up yet. |
| | |
| --- | --- |
| Paul Walsh | The product is sturdily constructed and fits ur requirements |
| | |
| --- | --- |
| John Harrison | The support hoops are 51.5mm diameter, galvanised inside and out. The crop bars and various strengthening components are similar quality. Door framing, hinges and staples etc all top quality. Nothing was skimped on, no corners cut. Quality covering as well, of course. |
What's In The Kit
We supply Timber Hinged Doors at each end, Anti Hot Spot Tape, Timber Base Rails and of course the Framework to support our 200 micron Super Therm Polythene cover. These options are pre-selected below, but can be amended to suit your needs.
You will be required to secure the foundations into concrete, alternative methods of securing the polytunnel can be selected, eliminating the requirement of concrete – see 'Polytunnel Foundation' section.