20ft Wide Polytunnels
A 20ft wide polytunnel could be just the right size for you. If it is then you have come to the right place. Our 20ft wide polytunnels, whatever length you choose to make them, will help you to optimise your commercial growing area and make the most of all your resources. Simply select the options that you require below and before long you will have the perfect polytunnel for your needs. The 'Whats in the Kit' page will tell you exactly what is included in the purchase.
Is there something else that you require above and beyond the basic package? If there is then there is some great news - our bonus save scheme means that when you add extras such as crop bars, base rails, sliding doors or staging to your basket you will make fantastic savings on your overall purchase. Whatever extras you require, you will find that we can help you to make your 20ft wide polytunnel exactly what you need it to be. Do not hesitate. Select everything you require and get ready to make the most of your farm, market garden, smallholding, business premises or community area as soon as possible. You will be amazed by how easy, affordable and efficient the whole process can be.
Intro
Hover To Zoom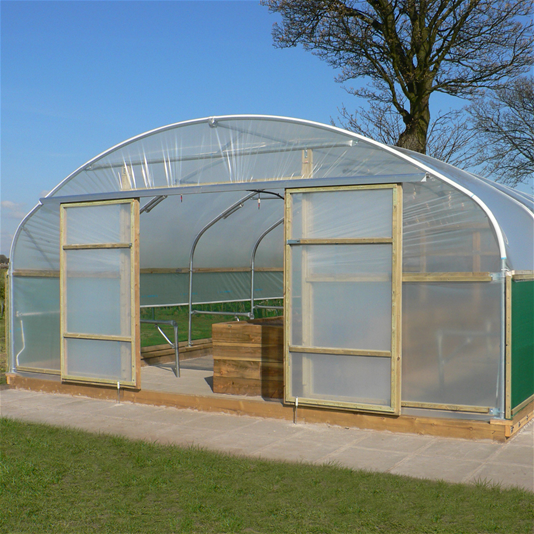 Tech Specs
Another big seller, the 20ft (6.1m) wide Polytunnel is absolutely perfect where ventilaton levels are critical. Because this Polytunnel is taller, the volume of air inside the structure increases making it ideal for cultivating certain taller plants and crops. The straight sides and gentle curves create access that is almost 6ft (1.83m) high giving you the ability to make the entire footprint productive.
Technical Specification
| | |
| --- | --- |
| Width | 20ft (6.1m) |
| Hoop Spacing | 6ft (1.83m) |
| Overall Height | 9ft 4in (2.84m) |
| Straight Side | 4ft 6in (1.37m) |
| Head Room (15cm from side) | 5ft 10in (1.77m) |
| Hoop Diameter | 2in (50.8mm) |
| Steel Specification | E370 Galv High Tensile |
| Door Opening Width | 7ft 6in (2.29m) |
| Door Opening Height | 7ft (2.13m) |
| Distance over Hoop | 32ft 5in (9.89m) |
| Door Frame | 4in x 2in (100mm x 47mm) |
| Inner Door | 3in x 2in (75mm x 47mm) |
| Base Rail | 3in x 2in (75mm x 47mm) |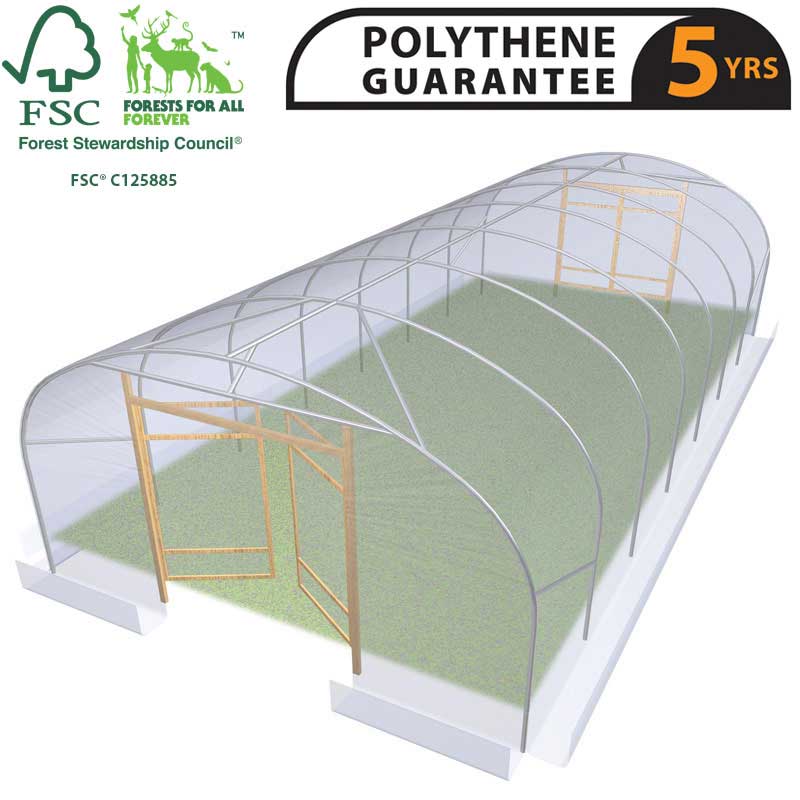 Instructions
We have two construction guides for our 20ft Wide Polytunnel Model.
20TR for polytunnels who require the cover to be buried in a trench. 20BR for polytunnels that have Base Rails eliminating the requirement for digging a trench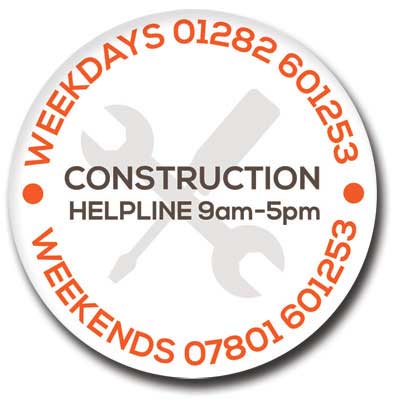 If you are experiencing problems with your polytunnel construction, our construction team are available to answer your questions and help in whatever way they can. Simply call 01282 601253 on week days between 9am-5pm...PLUS weekend cover on 07801 601253, between 9am-5pm or contact us. Alternatively, you can visit our construction resources website at polytunnels.co.uk.
We haven't stopped there, we know many people build their polytunnels at the weekend or over a bank holiday when our office is closed, so we have also produced a series of Polytunnel Construction Videos. This collection of videos can be viewed anytime, on your home computer, and even your phone for when you are in the thick of things constructing your polytunnel.
| | |
| --- | --- |
| Matthew Breach | Hasn't arrived yet |
| | |
| --- | --- |
| Mrs Cynthia Black | Great quality product which will hopefully help our Group, Crossgates Greenfingers, to produce great quality produce. |
| | |
| --- | --- |
| Tiffany Corbett | Great instructions, easy to assemble and fantastic quality. |
| | |
| --- | --- |
| David Aynsley | Durable, solid, well designed and meets our needs exactly |
| | |
| --- | --- |
| John Coyne | Great value for the cost and easily erected |
| | |
| --- | --- |
| Manucher Daneshvar | I bought the product as cover of our garden. I am erecting it but not completed yet because workman helping me was busy somewhere else. We assembled frames, fixed foundation and base plate for end sides. I had not realised the structure is so high and no doubt council will make problem and also for my purpose I do not need such height. I will cut the side elements shorter and hope adjusts fixing elements hoping no problem. I FOUND YOUR PRODUCT EXCELLENT FOR USE IF FARMS SUCH AS FOR ENJOYMENT SEATING OUT OR HAVE BBQ AT SUMMER PARTICULARLY WHEN COLD WIND, OR LIGHT RAIN DISTURB. ALSO IF HORSE FARM WILL BE EXCELLENT SHELTER FOR JORSES AND ANY OTHER PURPOSES WHERE PLANNING PERMISSION REQUIRE. I will order another smaller tunnel for storage. I erected a shed but Council objected. |
| | |
| --- | --- |
| Viewpark Gardens Allotments Susannah Mallin | Great product, best for pricing too |
| | |
| --- | --- |
| Rene Thielicke | Great and friendly service on the phone, very fast delivery, will by the next tunnel also at First Tunnels! |
| | |
| --- | --- |
| Mrs Julie Hodgson | So very happy once again with my New poly Tunnel.Having used this company for the last seven years i can highly recommend them.Quality 100% excellent.You are the best.!! |
| | |
| --- | --- |
| Brian Gardner | Super tunnel, well designed and obviously built to last. |
| | |
| --- | --- |
| John Oliver | good quality product, excellent customer service |
| | |
| --- | --- |
| Sam Jones | Very very robust and high quality. Well worth the money, cant wait to enjoy the next growing season. Thanks again. |
What's In The Kit
We supply Timber Hinged Doors at each end, Anti Hot Spot Tape, Timber Base Rails and of course the Framework to support our 200 micron Super Therm Polythene cover. These options are pre-selected below, but can be amended to suit your needs.
You will be required to secure the foundations into concrete, alternative methods of securing the polytunnel can be selected, eliminating the requirement of concrete – see 'Polytunnel Foundation' section.