The More You Spend With Us, The More You Save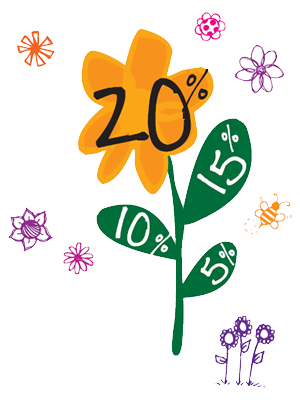 At First Tunnels, we really like to reward our customers. Every time you buy a commercial polytunnel or a domestic polytunnel from us, we will offer you great bonus savings based on the value of the goods you are buying. Of course we want you to choose us, for all your polytunnel needs – from the basic structures to all the add-ons that make life just that little bit easier. But with this bonus save scheme, what is good for us is also good for you. The more you buy from us, the greater the discount you will receive on the items you have bought.
There is no need to get out your calculator to work out how much you can save – an intelligent basket system will calculate the savings that will apply on the goods you have chosen while you shop – doing the hard work so you don't have to. If you have almost spent enough to qualify for our great bonus save, you will be informed and will have the option of including another small, useful item in your order and making even bigger savings.
Items such as base rails, sliding doors, crop bars and staging can all improve your polytunnel experience – purchasing them alongside your polytunnel can now help you save money too!
Is There A Catch?
No. When we tell you that you can get great savings, that is what you will get. Our prices are already fair and competitive and these discounts mean even better value for money on our great polytunnels and polytunnel related products.
All you need to know is that bonus savings can only be made when one of our commercial polytunnels or domestic polytunnels, however large or small, is included in your purchase.
No matter whether you are buying a small polytunnel for your garden or allotment or a far larger commercial polytunnel for your business, smallholding or farm, you make great savings of up to 20% on your purchase!
Unfortunately, we cannot offer savings on accessories and polythene covers ordered separately, if a Polytunnel is ordered then there is no limit as to what you can order and save.